ION EXCHANGE
LUCAS® aerobic wastewater treatment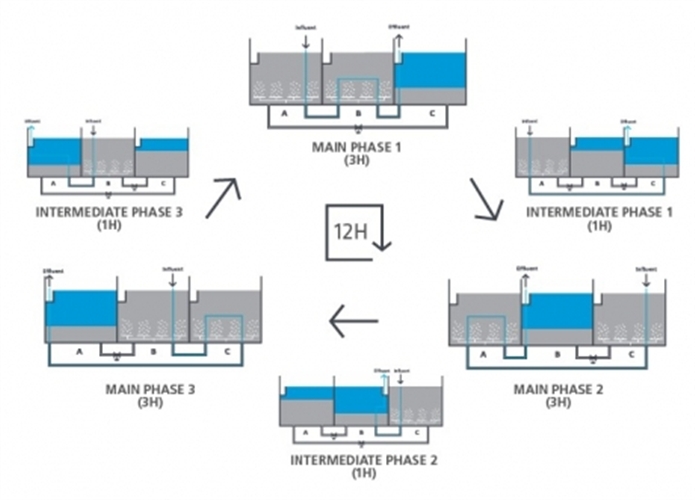 he LUCAS® water technology is a ultra-compact and intelligent solution for the treatment of industrial and municipal wastewater. It combines the advantages of conventional technology and the SBR (Sequencing Batch Reactor) technology.
The modular system of the LUCAS® technology offers a high-performance, low-cost and compact solution for the treatment of every type of wastewater, organic concentration and nutrient load, even with strong variations in water flow.
Cyclic activated sludge system
In its most typical design, the LUCAS® aerobic system consists of 3 hydraulically interconnected tanks with common walls and identical configuration. Each tank alternates one of the 3 processes of biological wastewater treatment: accumulation, regeneration and sedimentation. The optimal alternation of the 3 processes in each of the tanks depends on wastewater characteristics during each phase and is controlled by our MAKE SENSE® control & monitoring system, ensuring maximum efficiency and limiting operational costs.
LUCAS® lamella design
Depending on the flow and organic load, one or more tanks can be added. Steeper tanks equipped with lamella settlers allow to design even compacter plants.
LUCAS® nutrients removal
LUCAS® N-DN is the LUCAS® system with additional enhanced biological nutrients removal. Biological COD, N and P removal is achieved by manipulating three biochemical reactions (aerobic, anoxic, and anaerobic) to perform a nitrification, de-nitrification and P removal process.
Advantages
Compact, modular and flexible
Continuous operation
Constant reactor level & volume
Identical reactor configuration
Complete control
Optimal performance
Reduced cost & construction time
LUCAS® industrial aerobic wastewater designs
LUCAS®-3: the LUCAS® standard unit equipped with 3 reactor units
LUCAS®-1, LUCAS®-2: our LUCAS® light designs for wastewater with limited flow or COD load
LUCAS two stage aerobic: 2 LUCAS® systems in series (high load & low load)
LUCAS® N-DN: LUCAS® aerobic treatment including biological nutrient removal
LUCAS® closing-the-loop: advanced aerobic treatment including effluent recycling
LUCAS® plug & play: a fast track erection steel tank plant design
LUCAS® anaerobic-aerobic: biogas production with aerobic post treatment
LUCAS® municipal wastewater designs
LUCAS® multiple-lane: our LUCAS® design for large municipal wastewater flows
LUCAS® ultra-compact: our high-capacity and small-footprint LUCAS® design
LUCAS® undercover and LUCAS® chameleon designs for perfect visual integration